Book 1
Marked for Pleasure | Loose Id | November 2009 | BDSM, Sci-Fi/Futuristic | Marked Series, Book 1 | ISBN: 978-1-60737-458-9
Conner is all military. He believes in his cause and his planet. He's determined to find the assassins that killed his best friend's mate before he takes out his next target, and he doesn't expect to live beyond the end of it.
Rhea's quest for the people who killed her parents leads her to Conner, the man with all the answers. The only way to get her enemies is to pose as Conner's submissive, which she does willingly, but what happens when he marks her as his mate? Read more…






---
Book 2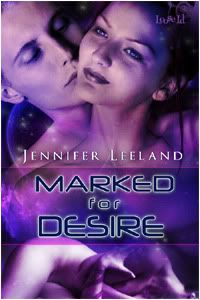 Marked for Desire | Loose Id | June 2010 | BDSM, Sci-Fi/Futuristic | Marked Series, Book 2 | ISBN: 978-1-60737-812-9
If Leo Eyler had any other way to find his enemy, he would use it. A stubborn princess doesn't suit his plans. Unfortunately, Princess Sera Placido is his only clue. The last thing she wants to do is cooperate with a Nyral Dominant who can't keep his hands off her.
When Leo insists on running her security against the deadly Brotherhood, Sera realizes that assassins and a life-sucking planet may not be the most dangerous thing she has to deal with. Her growing passion for Leo is. For although they clash, he intends to win both her body and her heart, and she's having a hard time resisting.
If they're going to survive, Sera has to learn to submit. Leo teaches her that she's marked for desire. Read more…


---
Book 3
Marked for Danger | Loose Id | November 2011 | BDSM, Sci-Fi/Futuristic | Marked Series, Book 3 | ISBN: 978-1-61118-567-6
For three years, Carina Tao has worked undercover as an assassin for the Blueshift Brotherhood to avenge the death of her sister. A chance encounter with a Nyral dominant partially marks her and opens her heart in ways she hadn't planned. Now, her life is in danger and this man who dominated her like no other may be the connection she needs to save what's left of her family.
Xandros Jasper only wanted a night of hot sex and finds himself obsessed with a woman who has a reputation as a killer. He and Carina are drawn together in a whirlwind of danger, prophecy, and death. Their fate is uncertain and it's going to take more than her skills and his recklessness to save them from being Marked for Danger. Read more…



---
Book 4
Marked for Surrender | Loose Id | December 2011 | BDSM, Sci-Fi/Futuristic | Marked Series, Book 4 | ISBN: 978-1-61118-689-5
When Zevon and Christophe are accused of being traitors to Nylar, they both believe the truth will come out and justice will prevail. But the Blueshift Brotherhood has targeted them and the two men end up with the Nyral Mistresses to be broken. Hope seems gone for the two lovers and they come face to face with their inner secrets when they face the most infamous Mistress of all: the Ball Breaker.
Mistress Andia Cyrus has broken thousands of criminals, turning dominant men into slaves. The two men she's handed this time, however, are not the usual type she's used to. They seem to be innocent, for one thing. For another, they're in love. And for another, she's starting to fall for them. She begins to dig deeper and soon finds a Blueshift Brotherhood assassin on her tail.
Fate seems to drag them together and Andia, Christophe and Zevon discover they can only survive if they are marked for surrender. Read more…